Valley City State University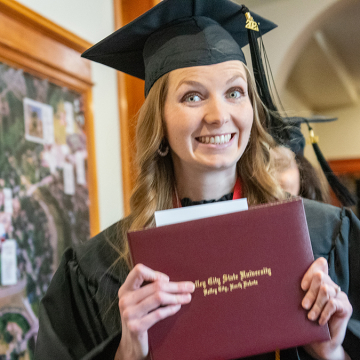 Join Us
Commencement is a celebration of a student's success and one of the most exciting days on our campus.
The following information is provided to help guide you and your family through this memorable time.
The Spring 2023 Commencement ceremony will bring together our academic community and guests to mark the progress of the Class of 2022 into the ranks of over 27,000 alumni.
Graduating seniors and those finishing their Master of Education or Master of Arts degrees will have the opportunity to take part in an in-person, traditional ceremony at the W.E. Osmon Fieldhouse on May 13, 2023 at 10 a.m..
The Details
Senior Awards Recognition Program
Friday, May 12, 2023
1:00 p.m. CST
Center for the Arts Auditorium, VCSU Campus
Students graduating with honors will be recognized along with outstanding seniors from various academic departments.
An email will follow with details from Kim Hesch. This event will be live-streamed.
Ceremony for Undergraduate and Master's candidates
Saturday, May 13, 2023
10:00 a.m. CST
Center for the Arts Auditorium, VCSU Campus
If you have not confirmed your participation in the May 13 ceremony, please email kim.hesch@vcsu.edu by April 3, 2023.
Commencement attire (Cap, Gown, Tassel and Hood) can be purchased at the VCSU Bookstore by calling (701) 845-7141.
The in-person ceremonies will be live-streamed and recorded for later viewing.
Graduates check your email for messages from Kim Hesch regarding instructions for graduation day.
Lodging & Visitor Information
Contact our Commencement Coordinator, Kim Hesch, with any questions or concerns at (701) 845-7403  or 1-800-532-8461 ext. 7403.