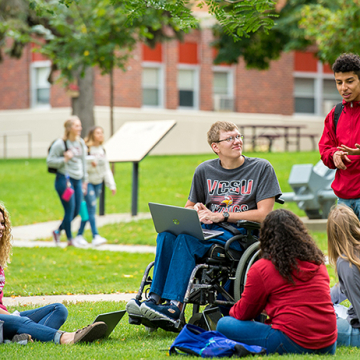 My VCSU
This is the place to keep a pulse on what is happening on campus, find help and access important resources.
VCSU Email
Login to VCSU email and other Office 365 apps here. login.name@ndus.edu is used as username.
Office 365 Email
Blackboard
Login to your Blackboard services here. login.name is used as username.
Blackboard
Find Other Services
Looking for something else? Whether it's PaperCut or Campus Connection, you can find the links here.
See All Services
VCSU COVID-19 Information
We recommend all members of campus get vaccinated and make safe decisions in regard to wearing a mask, physical distancing and hand washing.
Viking Athletics
Intramural Sports
Cheer on your VCSU Vikings!
Keep up with all of our VCSU teams - view rosters, check scores, and see when to get your Viking gear out for the next home event!
Viking Athletics
Join and compete.
Get involved and stay active by joining an intramural team.
Register now