Interested in being a visiting artist? Read more information about how to apply.
Submissions are accepted February 12 – March 12. Exhibition schedules are planned a year in advance, and it may take up to one year for a response due to the committee's meeting schedule.
Current Exhibitions
Virginia Brower is an Art Education and English Education major with a minor in Teaching ELL. Virginia is from a small town near Grand Forks, ND called Emerado, though most of their time is spent in the dorm at Valley City State University (VCSU) or in their bedroom at home where all their works are created. Virginia works in the mediums of graphite and charcoal pencils, markers, acrylic paint, crayon, and tissue paper. These mediums are important to them because they prefer to work in 2D mediums because of more access to the material. The themes found throughout Virginia's work include the idea of comfort and how comfort helps to live life to the fullest and step out of one's comfort zone despite struggles of mental health and chronic pain.
Past Exhibitions
Artist Talk with Assistant Professor Gratia Brown
Gratia loves to make things, break things, and create pieces that celebrate fragments and debris's poetic nature. She earned her Master of Fine Arts in Ceramics from Edinboro University of Pennsylvania and her Bachelor of Arts in History of Art & Architecture and Anthropology from the University of Pittsburgh. She is currently an Assistant Professor of Art at Valley City State University (N.D.), where she teaches ceramics, sculpture, art methods, and art history. She will participate in the Studio Paducah artist residency program in the summer of 2021.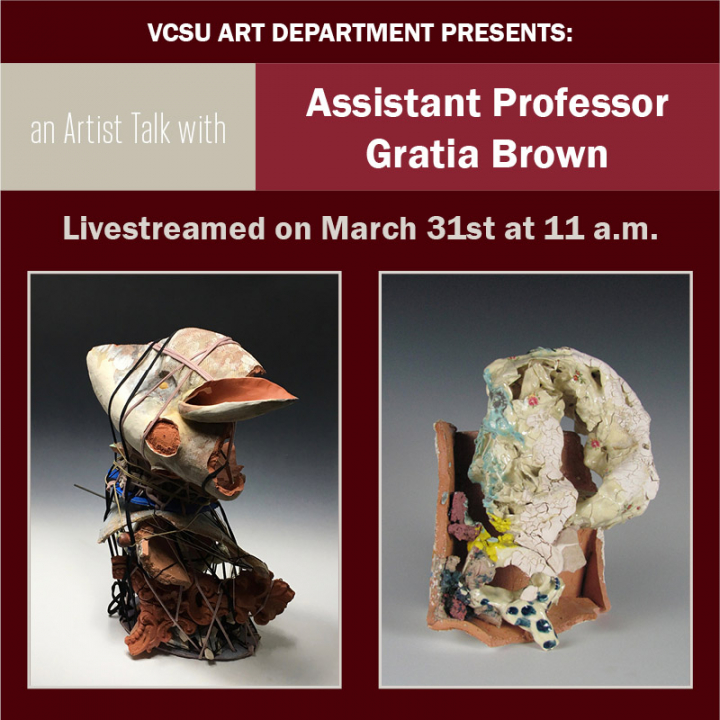 Visiting Artist Amanda Breitbach
Amanda Breitbach is a photographer and artist whose research typically focuses on the relationship between people and land. Breitbach earned bachelor's degrees in photography and French from Montana State University and a Master of Fine Arts degree from the University of Nebraska – Lincoln.
Artist Statement
These photographs are from a body of work called Land/People, which uses my individual experience growing up on a third generation family farm to speak about the decline of family farming in an increasingly corporate agriculture industry and to describe the loss of a daily, physical/emotional/spiritual relationship to land. The project combines panoramic and aerial images of my family's farmland in eastern Montana with intimate photographs of family members and domestic spaces.
Shania Schooler – Senior Art Exhibition
Take a virtual tour of Shania's exhibition.
Focusing on an interest in body modification and florals, Schooler has created a gallery of images incorporating the design elements of tattoos and focal arrangements. The artwork in the exhibition includes various mediums and formats, among these being digital art, dry point and lino block printmaking, and graphite and color pencil drawings.
Schooler is majoring in Art Education and will be student teaching this upcoming spring. At Valley City State University, she met plenty of mentors throughout her four years of studying and continues to draw inspiration from all of them. Former art professors, Karri Dieken and Brock Drenth, have fostered and helped her grow her love for the art teaching profession. Schooler has said, "I am incredibly grateful for those two and their influence on me."
She plans on staying in North Dakota as an educator and hopes to spend her free time creating.
Virtual Artist Talk with Ekow Ephrim
Friday, September 25, 2020 at 11:00 a.m. VCSU Art Department faculty member Ekow Ephrim presented a talk on his exhibition "The Space In-Between". The exhibition ran through October 15, 2020.
Take a virtual tour of the exhibition.
Artist Statement
Ekow N. Ephrim
Historically, graphic designers have been mediators rather than creators of the text, thus a seemingly indestructible notion of the need for clients. Challenging this paradigm, and toward my design philosophy, led me to 'design for social impact'. In the absence of the client, what is the designer's role in society and their contribution to the design discipline? What place does self-initiated, non-client-driven design have in the life of a graphic designer? This vacuum created in the absence of the client is what I translate as 'The Space In-Between'.
As a visual communicator, my utmost goal is to develop sensitivity towards my immediate environment to identify critical social issues and address them using graphic design. To me, the role of graphic design transcends visual communication problem-solving. I like to use graphic design to educate and propel social action. As a social provocateur, I focus on graphic design's ability to persuade, provoke, and impact.
Through this lens, I interrogate institutional, economic, social, and political systems to define opportunities for critical courses and change. I rely on the power of visual storytelling, graphic simplicity, emotions, and connections to convey the message. For me, a very complex world has to be simplified and design is a way out of confusion.
This exhibition, 'The Space In-between', features my experimental work and part of MFA thesis project.